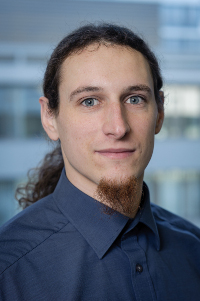 Horst Görtz Institute for IT-Security
Ruhr Universität Bochum
Wasserstraße 221
D-44780 Bochum
Email: NOSPAM.Matthias.Minihold@RUB.de


I graduated from TU Wien, became a ECRYPT-NET
Marie Skłodowska-Curie Research Fellow in November 2015. Currently I am PhD candidate at Ruhr Universität Bochum (RUB).



You're very welcome to send an (encrypted) eMail to me. Please use my PGP-Key below and have a look at the surprisingly easy HowTo's for Thunderbird, Webmail, Outlook users to send messages, that are for my pair of eyes only -- regardless whether the content is highly confidential or not. You could also use the convenient
webservice to reach me.
My Research Interests
Fully Homomorphic Encryption (FHE)
🔑) Studying Fully Homomorphic Encryption schemes, primitives they build upon & their applications
🔑) Defining minimal requirements for practical FHE usage in e.g. the Cloud-Computation setting
🔑) Studying limits on the functionality and practicality of FHE based solutions for various use-cases

The Subset-Sum Problem
🔑) Probabilistic methods to solve hardest instances
🔑) Investigating algorithmic lower-bounds from a complexity theoretic perspective
🔑) How many items optimally fill my knapsack?

Easy to use online privacy tools in digital everyday life
🔑) Deploying best practices in times of ubiquitous tracking and profiling
🔑) Real-world solutions for artificial intelligence classification on encrypted images & data
🔑) Discussing the impact of crypto-technology on the (unheeding?) society

Check-out (aka git-clone) my ✍ SourceCode Projects on github!
My Teaching @ RUB
Summer term 2018
[GER] Seminar über Real World Cryptanalysis (link...)
Im zweiten Teil des Seminars folgt eine Analyse weit verbreiteter, aktuell relevanter Kryptobibliotheken und -primitiven. Hierbei soll der zugrundeliegende Quellcode abstrahiert, didaktisch aufbereitet und vorgestellt werden. Anschließend werden wir, aufbauend auf dem theoretischen Teil des Seminars, nach Möglichkeit Schwachstellen des vorgestellten Quellcodes indentifizieren.
Summer term 2018
Winter term 2017/18
[GER] Seminar über Real World Cryptanalysis (link...)
Im ersten Teil des Seminars wird eine Serie von aktuellen wissenschaftlichen Arbeiten vorgestellt, die sich mit kryptanalytischen Angriffen auf praktisch eingesetzte Verfahren auseinandersetzen.
Summer term 2017
Winter term 2016/17
Summer term 2016




My Presentations

My PGP Fingerprint

Here's two more alternative encodings to verify the fingerprint (i.e. on a mobile device):

Scan the QR-Code:

Compare with the according PGP Word List of the above fingerprint byte sequence (aka google-search tags):



obtuse Waterloo chisel microwave crackdown getaway snapline atmosphere southward chambermaid
erase misnomer spellbind Waterloo seabird hurricane enlist designing dwelling breakaway